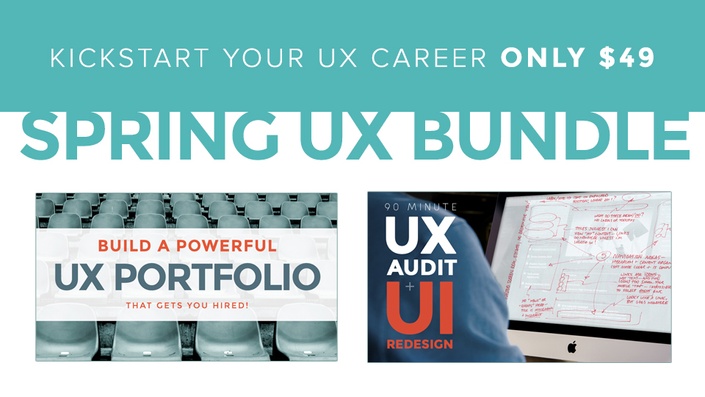 SPRING UX BUNDLE
Get two of my most popular UX courses today, Build a Powerful UX Portfolio + The 90-Minute UX Audit, for just $49!
For five days only, you can grab two of my most popular UX courses for just $49 bucks.
Which, for those interested in the math, is a whopping $107 savings!
But that price is only good until midnight (EDT) this Friday, June 21st.
Learn the fastest way I know to spot UX issues — by looking at the UI first — in the 90-Minute UX Audit + UI Redesign.
The 90 Minute UX Audit & UI Redesign is based on two things I've learned over almost three decades of consulting:
UXers and Designers are not ever given the time, budget or approval they need to conduct a thorough UX audit.
The root cause of at least 85% of UX issues is poor UI design — from visual cues to labeling to organization.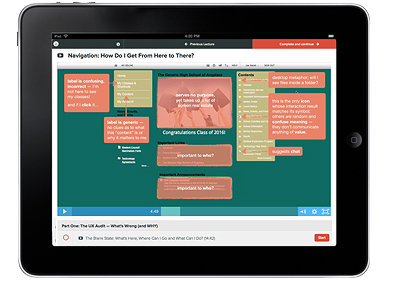 This course walks you through my faster, simpler method to quickly identify critical UX issues — just by looking at the User Interface. You're essentially looking over my shoulder as we audit and redesign an existing education portal.
I'll walk you through a huge list of common UX problems that will show up in any and every site, app or enterprise system you ever work on.
Then, I'll walk you through the what and why of a UI redesign that fixes those issues. After you've taken this course, you'll know exactly how and where to find common UX issues in a product — and you'll also know how to fix them.
Learn the right way to build your UX portfolio — with my Build a Powerful UX Portfolio course and LIVE portfolio review.
I designed my Build a Powerful UX Portfolio course as an antidote to the wealth of terrible advice, hyperbole and misinformation I see all over the internet.
The majority of the articles you're reading are wrong about what needs to go in your UX portfolio and how you present it. They're wrong about what a "great portfolio" looks like. They're wrong in showcasing examples that are little more than collections of pretty pictures.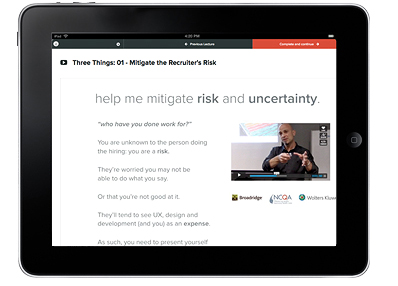 So I'd like to show you the truth of what recruiters, hiring managers and even potential clients are really looking for.
I'd like to show you what they really care about and why it's either buried or non-existent in most portfolios.
I'd like to show you how to improve your odds, so that the next recruiter spends more than 30 seconds looking at your portfolio.
So that you get asked to come in for an interview and have a much better shot at getting hired.
Enrollment will open soon — stay tuned!
What's Included: courses, training videos, ebooks + more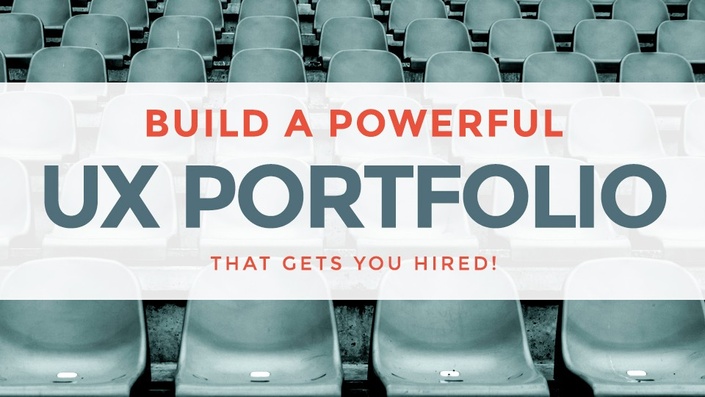 BUILD A POWERFUL UX PORTFOLIO
Learn to build a competitive, effective, impactful UX portfolio recruiters, employers and clients want to see!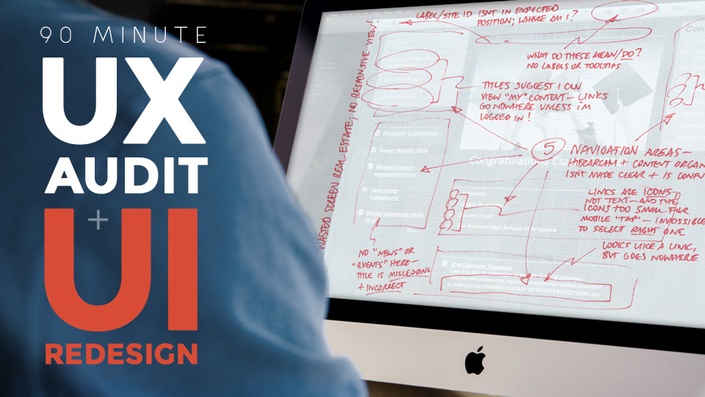 :: 90-Minute Web Portal Audit + Redesign
My method for figuring out what stays, what goes, and what needs a total makeover!
Strengthen your skills and your portfolio — for just $49.
You get lifetime access to both courses, and as a bonus you also get a FREE Live, 2-Hour Group Portfolio Review Session with me, where I'll review your portfolio and give you guidance on what's working for you, what isn't, and what to do to make your portfolio the best it can be.
These two courses together are a solid knockout punch: learn how to run a quick, simple, successful UX Audit, and then learn how to tell that story effectively in your Portfolio.
But this offer is only good until midnight (EDT) this Friday, June 21st!
So the time to invest in yourself for nearly half the usual cost is absolutely right now.
140,000 students can't be wrong — but don't take my word for it!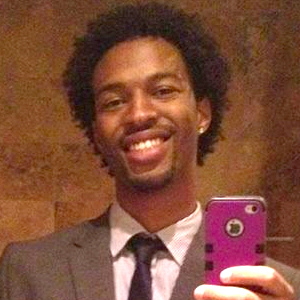 "I got my dream job thanks to this course! I am a long time visual designer. I [took this course] specifically to give myself a crash course on UX in order to qualify for a Sr. UXD position at a very reputable company. I gave myself 2 weeks to go over all of the content and had no problem at all learning the phases. I even used some of the stories and examples in my interviews. Very engaging points and a fantastic presentation! Joe — you're a life saver. Thank you for putting together such a stellar course!"
- Anthony Gracey, Art Director & UX Designer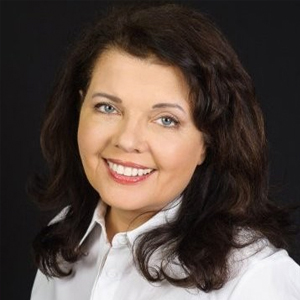 "Joe, I thank you both as a hiring manager and a UX designer. I wish every recruiter would take this course. The "beautiful" portfolios I get are often time-wasters and I find myself time after time asking to see the designer's "thinking process" instead. If there were an abundance of designers with portfolios following this portfolio method, I would be able to fill positions much more quickly"
- Diana Fanelli-Brennan, UX Hiring Manager + UX Designer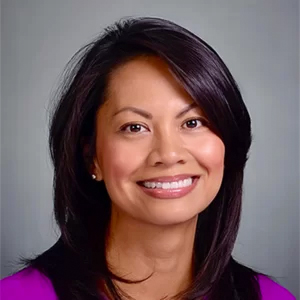 "Great course, Joe! I really appreciate how you're able to distill in very easy language, examples, visuals things that UX professionals sometimes have a hard time conveying - especially to business partners, stakeholders, etc. who might not be as familiar with the discipline. If only we had someone like you in every company! Thank you for this and I look forward to continuing to follow you, your work, and your courses!"
- Mylene Hendrick, VP, Product and UX, business.com
Enrollment will open soon — stay tuned!
BUILD A POWERFUL PORTFOLIO COURSE FAQ
There are a million free articles — and ebooks — on building a great portfolio. Why should I take this portfolio course?
Because they're all selling misinformation.
The fact that there is an enormous vacancy across the globe for UX roles — and still so many people looking for UX jobs — tells me that the advice UX professionals and designers are getting is woefully uninformed and/or incomplete.
As I mentioned above, I've put my own eyes on well over 250 portfolios, and I am at a complete loss to understand why and how they are all making the same critical mistakes. Your portfolio is your first job interview; it stands in your place and speaks for you. The purpose of this course is to teach you what it should be saying, and how.
Why should I believe you instead of them?
One simple reason: because I've been helping Fortune 500 & 100 organizations build product Design and UX Teams from the ground up for 26+ years.
I've helped them define team roles for new hires, and I've advised them on how to screen potential candidates — and what to look for in their portfolios and resumes.
As you've probably heard me say before, I have no magic powers, no UX omnipotence that makes me smarter than everyone else. What I do have is a lot of time spent helping clients build UX and Design teams, and that time has produced a mountain of evidence about what works and what doesn't.

What makes your course any different from so many others?
Because everything I deliver is based in reality, in the less-than perfect world most of us live in. I'm not interested in jargon, proprietary, complex processes or high-minded theory that fails when the rubber hints the road.
I'm interested in results, because at the end of the day that's the only thing that counts: did that thing I showed you how to do work, or didn't it?
More than 140,000 students (yes, that's a real number) have found my courses and workshops valuable because they deal with the reality of working in the messy corporate world — instead of the UX fantasy land far too many authors and so-called "experts" describe in their speeches, articles and courses.
How long do I have access to the course?

How does lifetime access sound? After enrolling, you have unlimited access to this course for as long as you like — across any and all devices you own.
90-MINUTE UX AUDIT + UI REDESIGN COURSE FAQ
My managers have never agreed to any kind of UX audit — they just want me to "make the UI pretty." Why should I believe that they'll agree to this?
One simple reason: because you don't need any additional time, budget or people to do what I'm going to show you here.
Resistance to UX work (or informed design work) on a managerial level always comes from fear. Fear that your work will delay the sprint, blow the delivery deadline, overrun the budget.
Not only does this method do none of that, it takes significantly less time than just about anything of the kind I've ever seen proposed in the last 26 years of my life as a consultant.
There's no way you can audit a UI in 40 minutes and find real problems — just cosmetic stuff. I just don't buy it, Joe.
Buy it or not, it's still the truth.
I have been asked to audit and evaluate some of the largest, most complex systems in the corporate world for UX problems. And in nearly every instance, in the first hour alone I fill a dozen pages in my ever-present sketchbook with UX issues.
These are significant barriers to use that I see, simply by looking at what's on the screen. These issues are common, they're persistent, and they exist even in the most seemingly well-designed UIs.
I don't find them because I'm some kind of genius; I find them because they are there if you know where to look.
What makes your 90-Minute UX Audit course different from so many others?
More than 140,000 students (yes, that's a real number) have found my courses valuable because they deal with software development reality instead of UX fantasy.
Perfect situations where we can do these well-funded deep dives into UX analysis and comprehensive redesign spanning weeks or months don't exist for a vast majority of designers, developers and teams, and I'm tired of hearing people in my own field pretend otherwise.
So everything I deliver is based in reality, in the less-than perfect world most of us live and work in.
How long do I have access to the course?

How does lifetime access sound? After enrolling, you have unlimited access to this course for as long as you like — across any and all devices you own.
Enrollment will open soon — stay tuned!
Your Instructor
Joe Natoli has been preaching and practicing the gospel of User and Customer Experience to Fortune 100, 500 and Government organizations for nearly three decades. That work includes commercial industry leaders like Broadridge, Condé Nast, Johns Hopkins, Mettler-Toledo, PHH Arval, SC Johnson and Wolters Kluwer, as well as government agencies like NSF/NCSES, NIH and the Dept. of Homeland Security.
Joe devotes half of his practice to writing, coaching, and speaking. From guiding students at the beginning of their careers to integrating UX into the work of seasoned veteran developers and designers, he is immensely passionate about the inherent power of UX and design.
He has launched six successful online courses, with more than 180,000 students enrolled to date. His bestselling book on UX Strategy and Product Improvement/Development, Think First, was published worldwide in 2015. His latest book (in progress) — ENDING THE UX WARS: My rules for team and management collaboration, cooperation and success — is scheduled for release in 2020.
The remaining half of Joe's practice is dedicated to training Enterprise Design and Development teams, helping them integrate best practices in UX into their product development efforts. In addition, he does a limited number of UX Audit engagements to help organizations identify and overcome UX-related obstacles to product adoption.
Joe has been speaking publicly on the topics of User Experience (UX) and Design for 26 years, from national conferences like UX LIVE, WebExpo, Interaction South America, HOW Design Live, DevWeek and QCon to regional events like PechaKucha. He also makes it a point to spend time talking to students across the country at colleges and universities, in an effort to give back what others have so generously given him.
In addition, he has written numerous articles about the roles Design, UX and CX play in business success for publications such as Fast Company, HOW, SmartCEO, The AIGA Journal, The Baltimore Business Journal and Business Monthly. His articles, advice and videos can be seen at his website, givegoodux.com.
Enrollment will open soon — stay tuned!