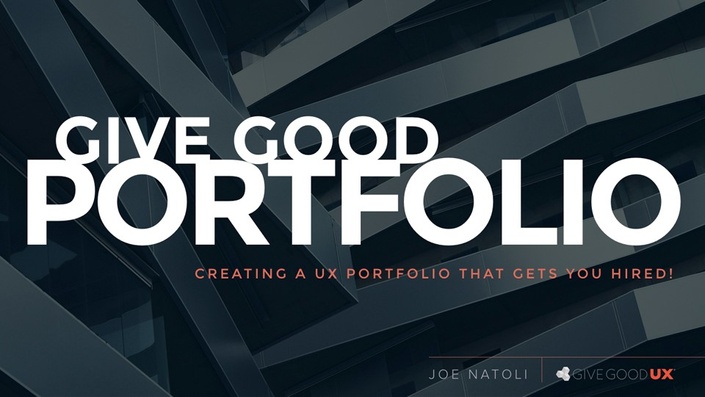 GIVE GOOD PORTFOLIO WORKSHOP
Learn to build the kind of competitive, effective, impactful UX portfolio recruiters, employers and prospective clients want to see!
Enrollment for this LIVE Workshop is Closed.
Because it's a safe bet your portfolio is working against you.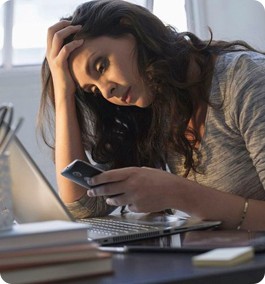 I'm going to let you in on a little secret:
There's a damn good chance your portfolio — no matter how visually impressive or cleverly worded it may be — is working against you.
It's the reason you're not getting messages from recruiters.
It's the reason those job applications or messages you've sent to recruiters seem to have disappeared into the void.
It's the reason prospective clients suddenly go dark on you and stop responding to your calls and emails.

Here's why I say that.
Roughly five months ago, a client came to me asking if I could help them develop a recruiting plan and screen candidates for a new UX department in their company. Naturally, I said yes.
Working with external recruiters and the company's HR department, we screened more than 200 UX- and UI-themed portfolios.
And I was completely shocked at what I saw.
Every single portfolio I saw was unbelievably underwhelming.
Every single one of them did a terribly poor job of communicating the person's skill, aptitude, talent and experience.
Every single one of them made the same critical mistakes.
At one point I even resorted to Googling "Best UX Portfolios" to find articles curating what I hoped would be the best of the best. Which, of course, I found, published by high-profile UX organizations.
But you know what?
The links in those articles only showed me more of the same.
I. Could. Not. BELIEVE It.

Houston, we have a problem.
This led me to believe that there had to be a fundamental problem in the way UXers, designers and developers are taught to put together portfolios. That the advice these folks are getting is inaccurate, uninformed or just non-existent.
In many ways, the formats and presentations I saw obscured the things that actually made some of these folks excellent candidates. Things we only discovered after hitting the wall and forcing ourselves to spend a lot of time we didn't really have revisiting them in depth, digging deep into navigation and case studies.
I got the distinct feeling that, were I to see Google Analytics on some of these portfolio sites, the page abandonment numbers would likely be very significant.
In any event, I felt like something needed to be done — specifically, this LIVE, online workshop.
A way to quickly illustrate these critical mistakes and show you a better, more effective way to structure and present your work and your value — to recruiters, hiring managers, employers and prospective clients.
The Give Good Portfolio Workshop will show you how to build a better portfolio that sells your value.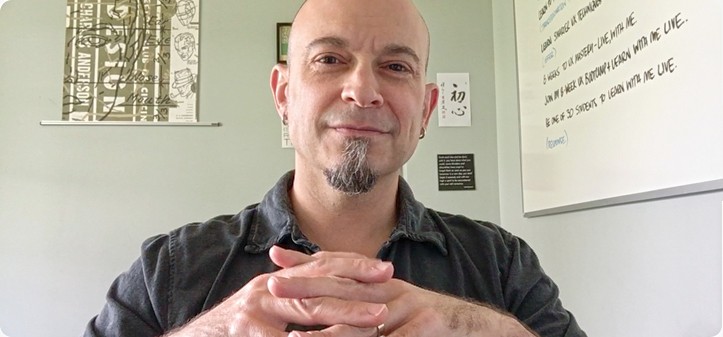 I'm inviting you to forget whatever you've been told about how to create an online portfolio.
Because if it's anything like the hundreds I saw, you're not doing yourself any favors.
So in this 90-minute workshop, I'm going to give you everything you need to do it better, from the perspective of the person doing the hiring.
Whether that person is a recruiter, an HR or company exec, or a prospective client looking for freelance help, I'm going to walk you through what works and what doesn't, with real-world examples.
Then we'll spend the last 30 minutes of the session critiquing 3 portfolios, selected from everyone enrolled in the workshop. Which means yours may very well be one of them.
We'll walk through them together, screen by screen, and whip them into fighting shape.
Enrollment for this LIVE Workshop is Closed.
3 LIVE Workshops to fit your schedule.
I know everyone's in different time zones, in different parts of the world, which can make it tough to attend virtual events like this. So we're going to do 3 separate sessions:
Tuesday, August 22nd: 7:00 PM (EDT)
Wednesday, August 23rd: 7:00 PM (EDT)
Saturday, August 26th: 10:00 AM (EDT)
Just choose the one that fits your schedule when you enroll!

I'm going to show you why you're making it harder for yourself to get noticed and get hired. Because even if your work itself is spectacular (which I'm sure it is), I have no doubt you're making many of the same mistakes I've seen thus far in my own recruiting endeavors.
More importantly, I'll show you exactly what you should be doing instead, from the very first screen. In this LIVE, remote workshop, you'll learn:
Why (and how) your portfolio is sabotaging your job (or client) search
The ONE thing every single portfolio gets WRONG
What employers and clients really want from your portfolio
The one thing you MUST speak to, visually and verbally
Why impressive visuals WON'T get you the job
How to position yourself as a strategic asset, not an order-taker
The right (and wrong) way to present case studies
The only 3 things any recruiter, employer or client cares about
Using social media — and making sure it doesn't hurt you
The anatomy of a Winning Portfolio – sample components you must include in your portfolio, and a template to guide your efforts
And at the end of the workshop, we'll do a live portfolio critique, using portfolios submitted in advance by workshop attendees. Which means you may get a personal portfolio review, critique and advice for improvement from me.
You'll also get a FREE, downloadable portfolio reference guide to walk you step-by-step through creating a winning portfolio.

You've got nothing to lose and everything to gain — enroll now and put yourself on the path to doing the strategic UX work you're meant to do, for the money you're meant to make.

70,000+ satisfied students can't be wrong!
I've had the great honor to teach (and learn from) all of those folks — they are some of the most supportive, driven, determined and smartest people I've ever met. And the one thing they all have in common?

They have all gained real, clear, measurable benefit from my courses and workshops.

Not because I say so, but because that's what they've told me.

So instead of me bending your ear about that, I'll let them speak for themselves.












FREQUENTLY ASKED QUESTIONS
There are a million free articles — and ebooks — on building a great portfolio. Why should I take this workshop?
Because they're all selling misinformation.
The fact that there is an enormous vacancy across the globe for UX roles — and still so many people looking for UX jobs — tells me that the advice UX professionals and designers are getting is woefully uninformed and/or incomplete.
As I mentioned above, I've put my own eyes on well over 200 portfolios, and I am at a complete loss to understand why and how they are all making the same critical mistakes. Your portfolio is your first job interview; it stands in your place and speaks for you. The purpose of this workshop is to teach you what it should be saying, and how.
Why should I believe you instead of them?
One simple reason: because I've been helping Fortune 500 & 100 organizations build product Design and UX Teams from the ground up for 26+ years.
I've helped them define team roles for new hires, and I've advised them on how to screen potential candidates — and what to look for in their portfolios and resumes.
As you've probably heard me say before, I have no magic powers, no UX omnipotence that makes me smarter than everyone else. What I do have is a lot of time spent helping clients build UX and Design teams, and that time has produced a mountain of evidence about what works and what doesn't.

What makes your workshop any different from so many others?
Because everything I deliver is based in reality, in the less-than perfect world most of us live in. I'm not interested in jargon, proprietary, complex processes or high-minded theory that fails when the rubber hints the road.
I'm interested in results, because at the end of the day that's the only thing that counts: did that thing I showed you how to do work, or didn't it?
More than 70,000 students (yes, that's a real number) have found my workshops (and courses) valuable because they deal with the reality of working in the messy corporate world — instead of the UX fantasy land far too many authors and so-called "experts" describe in their speeches, articles and courses.
How long do I have access to the workshop?

How does lifetime access sound? After enrolling, you have unlimited access to these 3 workshop recording videos, the portfolio guide and the template for as long as you like — across any and all devices you own.
Your Instructor
Joe Natoli has been preaching and practicing the gospel of User and Customer Experience to Fortune 100, 500 and Government organizations for nearly three decades. That work includes commercial industry leaders like Broadridge, Condé Nast, Johns Hopkins, Mettler-Toledo, PHH Arval, SC Johnson and Wolters Kluwer, as well as government agencies like NSF/NCSES, NIH and the Dept. of Homeland Security.
Joe devotes half of his practice to writing, coaching, and speaking. From guiding students at the beginning of their careers to integrating UX into the work of seasoned veteran developers and designers, he is immensely passionate about the inherent power of UX and design.
He has launched six successful online courses, with more than 180,000 students enrolled to date. His bestselling book on UX Strategy and Product Improvement/Development, Think First, was published worldwide in 2015. His latest book (in progress) — ENDING THE UX WARS: My rules for team and management collaboration, cooperation and success — is scheduled for release in 2020.
The remaining half of Joe's practice is dedicated to training Enterprise Design and Development teams, helping them integrate best practices in UX into their product development efforts. In addition, he does a limited number of UX Audit engagements to help organizations identify and overcome UX-related obstacles to product adoption.
Joe has been speaking publicly on the topics of User Experience (UX) and Design for 26 years, from national conferences like UX LIVE, WebExpo, Interaction South America, HOW Design Live, DevWeek and QCon to regional events like PechaKucha. He also makes it a point to spend time talking to students across the country at colleges and universities, in an effort to give back what others have so generously given him.
In addition, he has written numerous articles about the roles Design, UX and CX play in business success for publications such as Fast Company, HOW, SmartCEO, The AIGA Journal, The Baltimore Business Journal and Business Monthly. His articles, advice and videos can be seen at his website, givegoodux.com.